unlimited talk/text/data plan tops the list for CNET iPhone user/reviewer.
The Solavei proposition is an easy one — unsurpassed value for smartphone users, and a home biz opportunity for anyone interested in extra income.  Solavei offers a simple, no contract, $49 a month unlimited talk/text/data plan with up to 4GB of data at 4G speed, reviewed as top value in a recent CNET review.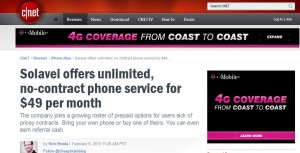 Solavei is an MVNO operating on the T-Mobile 4G network.  T-Mobile is revamping its system to add an optimized bandwidth for iPhone users, making the Solavei plan an easy choice for fans of the popular phone, many of whom (including the reviewer) pay $80 or more a month on contract.
Besides being an unbeatable value, Solavei is revolutionizing social commerce, offering users the opportunity to actually earn money, significant money, for doing what they already do — sharing information on a great product with friends and family.  This social commerce model puts money into consumers pockets instead of the pockets of advertising agencies, media and big corporations.  Solavei is focused on re-thinking commerce, even making commerce profitable for real people.
How profitable?  Solavei's nationwide launch was September 21, 2012 — as of February 11, 2013, members had earned over $5.2 million dollars!  In the traditional business model, Solavei would have been spending that money to grow with big media buys, maybe celebrity endorsements, exclusive event sponsorships and the like.  Maybe it would have paid off, maybe the subscriber base could have been built to where it is, but frankly $5.2 million in the world of advertising isn't a whole lot to build a new brand, particularly because the data shows — NOBODY'S LISTENING!
But think of what that $5.2 million does in the hands of real people?  That's money that gets spent in the locally — maybe dance lessons for the kids, or an extra night out at the local pizza parlor.  The most exciting part of Solavei is not just the savings on cell service — Solavei's home biz opportunity builds people, families, communities.
All it takes is the decision to switch to a great value plan, and spread the word!